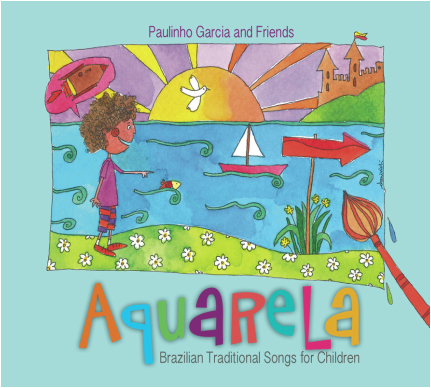 Featuring Paulinho Garcia and friends, is a beautiful collection of traditional children's songs and a fun and effective way for your family to learn and practice Brazilian Portuguese. And don't worry if you don't know Brazilian Portuguese - the album comes with a song book with full English translations you and your children can sing along to.
01. Os escravos de Jó
02. A-E-I-O-U
03. O pato
04. Luar do sertão - Azulão
05. O trenzinho do Caipira
06. Touradas de Madri
07. Se essa rua fosse minha
08. Aquarela
09. Sapo Jururu
10. Roda pião
11. Ciranda cirandinha
12. Meu limão, meu limoeiro
13. João e Maria
14. O cravo brigou com a rosa - Terezinha de Jesus
15. Acalanto - Boi da cara preta
16. Luar do sertão (bonus track)
To Purchase Click on the CD.
O Pato (Paulinho -
Silvia Manrique
-
Heitor Garcia
)
---
On behalf of the Parents' Choice Awards Committees,
it is my great pleasure to let you know that the following product has been selected as a 2016 Parents' Choice Award winner:
Established in 1978, Parents' Choice Foundation is the nation's oldest nonprofit consumer guide to quality children's media. As a Parents' Choice Award® winner, you're a member of a very select group. It's an honor that doesn't come easily; you should be very proud of your achievement.
Esther Berlanga-Ryan Review: To review an album recorded by Paulinho Garcia is to be invited into an entire Universe of fragility and beauty. I knew this when I received a phone call from Garcia's publicist a few short weeks ago, letting me know that the artist himself had requested that a copy of his new release was sent to my doorstep, for me to listen to and dissect it as I pleased. I felt both humbled and challenged. How does one find the fair combination of words to describe utter beauty?
to continue reading please click on:
Esther Berlanga-Ryan review of Aquarela
You can purchase Aquarela in any of the two sites below:
Global Language Project
Paulinho Garcia's Jazzmin Records
---
---
---

---
---

Choro Conversations
To Visit Choro Conversations site please click on the Book Picture or the title above.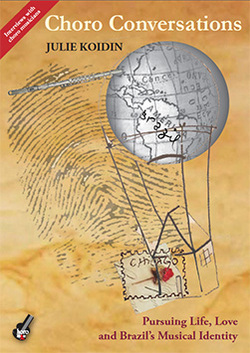 In 2002, American flutist Julie Koidin set out on an exciting musical journey. Starting in Rio de Janeiro she traveled to five other Brazilian capital cities (Brasília, Fortaleza, Natal, Recife, and São Paulo) seeking to meet, play and converse with a wide range of musicians, all with a connection to choro. Koidin combines her travel memoirs with intimate conversations about life, love and music. Her intent is to allow the reader to feel as if he or she is part of the conversation through her detailed portrayals of each interview subject, as well as her vivid remembrances of each encounter.

Koidin writes from the perspective of a cultural outsider. Choro Conversations, therefore, also serves as a portrait of contemporary Brazilian culture through the eyes of a foreigner. Her stories are often sprinkled with humor as she details her missteps as she navigates her new surroundings.

In total, Choro Conversations contains 52 interviews with leading musicians and writers all with a connection to choro, a musical cousin to samba with a history dating back to the late 1800s. Musicians include legends such as Altamiro Carrilho, Carlos Malta, Hermeto Pascoal, Sivuca, Guinga, Reco do Bandolim, Mario Sève, Silvério Pontes, Proveta, Izaias do Bandolim, Yamandu Costa, Paulo Moura, César Faria, Joel Nascimento, Luciana Rabello and many more!

Choro Conversations: Pursuing Life, Love and Brazil's Musical Identity is the English edition of Os Sorrisos do Choro, first published in 2011 by Global Choro Music.
---
---