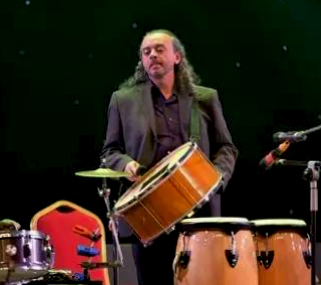 I was born in the city of Belo Horizonte, state of Minas Gerais, in Brazil. I was introduced to percussion at the age of four and at the age of seven my brother
Paulinho Garcia
gave me my first drum-set.
A few years later in 1983, I started my music education as a drummer at the "Milton Nascimento's Música de Minas". From 1984-1989 I studied at the "Music Conservatory of Minas Gerais", and took private lessons with José Vaz in Belo Horizonte and also with
Pascoal Meirelles
in Rio de Janeiro. During this period I performed at various events such as live T.V. shows, Radio programs, theaters, and toured around Brazil playing Rock, Jazz and Brazilian Popular Music (MPB).
My first professional recording as a drummer was with
"Casa dos Sonhos"
, a local rock band, I was part of this group until early 1987 after that I joined the
"O Grande Ah!"
(a contemporary "Avant-Garde" rock band). Together we recorded and released an album in 1988 with the title of
"1989"
featuring
Claudio Venturine
(
14 bis
) and Paulo Santos from
Uakti
.
Later, in 1989, I performed at the
"Melhor dos Festivais de Minas ano IV"
and recorded live with
Tato Fisher
from
"Secos e Molhados"
.
From 1987 until 1991, I performed Brazilian folk music and "MPB" on a number of festivals throughout Minas Gerais and also gained a lot of experience by teaching private drums lessons.
I moved to Chicago in 1991, and started performing and studying Brazilian and Latin music as a percussionist. My brother, again was a big influence in my musical career. With his inputs on how to play Brazilian percussion, I was able to learn a number of different instruments used in Brazilian and Latin music, and began to work with Jazz, Latin Jazz and Brazilian Jazz local groups.
Among them, the ones with most highlights are
Jazzmineiro
(
Paulinho's septet
),
Ensemble Kalinda
,
Chicago Immigrant Orchestra
,
Ricardo Lorenz
's
(
Macondo Stew
), I also performed and recorded with
Grazyna Auguscik
,
April Aloisio
,
Marshall Vente
,
Linda Tate
,
Francesco Crosara
and his mother
Lilian Terry
,
Matthew Skoller
,
Luciano Antonio
,
Joe Vasconcellos
,
Paulinho Garcia
and many other musicians.
I was part of the openings ceremonies of
"1994 world cup"
, and of
"Immigrants Unsettle Solutions"
a two weeks program created by
WTTW Channel 11 that was broadcasted
all over the USA, also participated of the inauguration of
"Chicago's Millennium Park"
with the
Chicago Immigrant Orchestra
, and later that year with
Luciano Antonio
I performed (Tons of Nature a tribute to Antonio Carlos Jobim) by
Flavio Chamis
.
In 2007 I performed in Warsaw, Poland where we release of the CD "
Andança
" Grazyna Auguscik and Paulinho Garcia during the celebration of the Polish independence day, we returned in 2008 for a 12 days tour.
Also in 2008, I performed for the
"50th anniversary of Bossa Nova"
at the Chicago's Millennium Park with the Group
"Made in Chicago"
besides
João Donato
,
Robertinho Silva
and
Luis Alves
and some of the best jazz musicians in Chicago, under the music direction of Paulinho Garcia.
In June 2012, I had the honor of performing with the
Detroit Symphony Orchestra
at the "Edson and Eleanor Ford House" with conductor
Carolyn Kuan
,
Julian Labro
,
Grazyna Auguscik
,
Geraldo de Oliveira
, and Paulinho Garcia.
Also in 2012 as part of the World Music Festival the "Paulinho Garcia septet" had the participation of two great musicians from Brasil,
Rogerio Souza and Leonardo Lucini
. In 2013 performed at the E.On Jazz Night in Bratislava, Slovakia with Paulinho and
Geraldo Oliveira
.
In 2014 I took a position as a drums and percussion instructor
at "The Old Town School of Folk Music" where I have been participating of many of the concerts and festivals for the past 20 years, and this year (2015) I am also teaching Pandeiro at "The Chicago Choro Club".
My last tour was in December 2015, I was in mainland China on a 10 days tour; We arrived in Hong Kong but started our tour in Shenzhen city at the Shenzhen Grand Theater for 2 concerts, then we went on to perform in Zhaoqing City and closing at Yantian, Guangdong, this tour was a collaboration in between the Luciano Antonio Band and Planeta Azul band
.
Outside of the above mentioned I perform regularly on local nightclubs, restaurant, jazzclubs, street festivals and universities.
I hope to see you in one of these events.
Thanks for visiting,
Heitor G. Garcia.
---